Next, our journey led us to an exquisitely beautiful spot on the Hood canal in our Godmama's sister and brother in law's perfect little cottage.  We have been here twice before and it is one of our favorite places on the planet.  Lush green, tender leaved trees in verdant new blooms, with the heartier, darker green pines filling in the landscape…green green green…  breathes new life into my soul…and then there's this swing and all the promise it holds….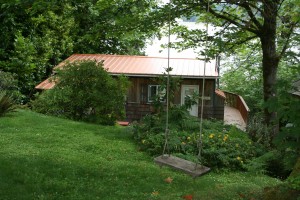 And as if this weren't enough, the landscape opens to a tranquil inlet of water, separated by a driftwood and native plant covered sand spit, from the canal that flows smoothly and holds all manner of sea life.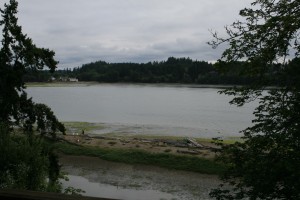 The cottage which they built themselves, is wonderfully simple;  a cozy room with everything all in one spot. Only things that are truly useful, functional take up space, complemented by treasured gifts from loved ones.  The feeling inside is of love and comfort and home, even as wide windows open to breathtaking natural, green glory, splendor, and watery peace.
A classic example that in following our own bliss, we create blessings for others, as they have for all with whom they share their cottage.
——-
I am reading Walden (or Life in The Woods) and magazines about homesteading… it will not be easy to go back to suburbia… but this is why we adventure after all…to gain perspective…to rethink and refresh our visions of conscious and connected living (albeit much more comfortably than Thoreau).
"I went to the woods because I wished to live deliberately, to front only the essential facts of life, and see if I could not learn what it had to teach, and not, when I came to die, discover that I had not lived.  I did not wish to to live what was not life, living is so dear; nor did I wish to practise resignation, unless it was quite necessary.  I wanted to live deep and suck out all the marrow of life, to live so sturdily and Spartan-like as to put to rout all that was not life…"
-Henry David Thoreau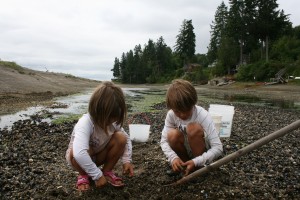 Lucas says over and over again.. "I want to live here!" as he delights in the treasure hunt of clam digging, turning more and more over until we finally have to say stop because we cannot possibly eat all of that treasure!  (Though we do try with a reasonable attempt at clam chowder)
We say we want to live here (a place like this, green, alive) too.. and we enjoy the perspective and clarity that traveling gives… to talk about our long term plans and what direction we want to be heading in… how we will continue to intentionally bring in what matters to us most while we remain in suburbia; regular nature outings, family adventures, family connection time.. and so on.
Conscious Family Reminder:  Take time out as a family, away from all the distractions of your daily life and let this perspective and connection guide you to what is really important for all of you.  (The place is not as important, as the commitment to taking the time to truly connect with life and each other)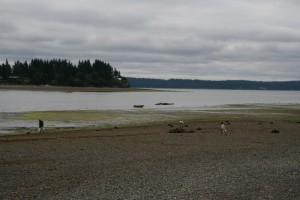 It is striking what freedom and presence our children exude in running across the tidepools, no conflict between them, just delight and discovery in this wordless experience of having enough space, doing what humans are primed to do… discover and create.  There is no need to entertain or distract them with toys….. just let them run, explore, and find real life…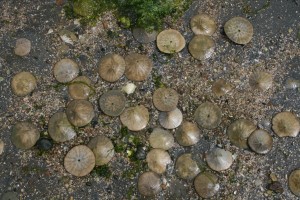 "So with a hundred "modern improvements;" there is an illusion about them; there is not always a postive advance." -Thoreau
I think about all the things that we in the city have become accustomed to providing for our children in their homes (toys, games, media, clothes, etc.) It seems we are intuitively trying to mimic the delight and discovery that we need as humans…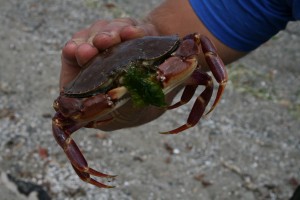 but, there are too many costs with excessive reliance on this approach (pollution, overwhelm, factory oppression, etc.)… and all of those things are cheap imitations for… the vibrant, awake and alive experience of being in the natural world where God is in all the details.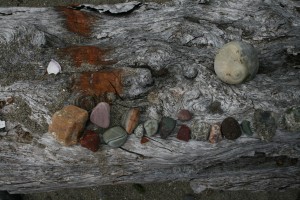 Conscious Family Reminder:  Get outside, get outside, get outside and let the perfection of nature fill your souls and reconnect you to the Divine and what is truly essential in life.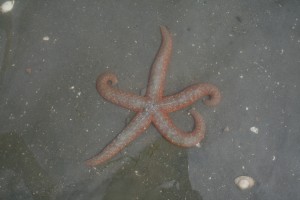 Family friends that we met through our Godmama last year, come over for the day and revel in the landscape with us.  Joe, the dad, is a geologist and Lucas is thrilled to ask him every question he has ever wanted to ask about rocks and actually get an answer.  This is much better than the "let's find out" he hears from us, as his curiosity continually humbles us with the realization of all we do not know.
Joe appreciates his interest, patiently responds, and gives us tips on how to nurture the budding geologist that is so apparent in him.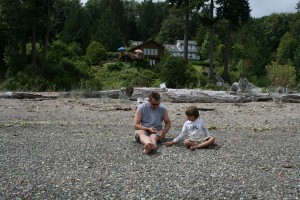 Tasha, the mother, has a knack with children and shows such genuine interest in everything they do that we all take a deep breath of relief.  She leads them on rock hunts and games with driftwood… and I rest in the peace of being with another who relishes children.
Later in the day, Maya announces that she is ready to "do a show."  (We have been treated to Maya's improvisational performances since she was a small girl and began singing what I call "therapeutic songs" where she processes her own life experiences, ie. "pretty flower you are so happy…or sad….or scared, etc.")   We encouraged her to do her show where we were sitting but she insisted that we move to a spot on the stairs where "I will be more comfortable."  Of course, hearing her express her need, we all got up and went to the stairs.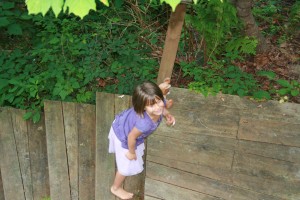 She began with a song about rain: "Rain, rain, rain it's everywhere, it's falling, falling, everyyywheerre!" and many more verses which seemed as though she were intuiting the natural reality here where it does rain tremendously (even though our days here were mostly dry).  After this,  she 'took requests' asking us what kind of song we'd like.  We requested "rock", "flower", "rainbow" songs and she sang her jazzy broadway  infused originals with gusto and dramatic flair.
After a while, I found myself feeling concerned that she was taking too long, inconveniencing them… the same feeling I might feel when my child has an "embarrassing" question to ask someone.  Old unconscious messages of "be quiet" "be good" "don't ask for too much"… all the ways that I learned and tried to 'be acceptable' as a child, floating up to the surface.  But I sat with it, not wanting to shut down this miracle of self expression.
It was interesting to notice my deep discomfort, as she simply did what her heart and child-like desire for attention was leading her to do.  I comforted myself and allowed space for this discomfort while doing my best not to let any of it spill onto her.
As her songs and our attention naturally came to an end, we all clapped and Joe exclaimed with genuine gratitude, "That was REALLY, really great Maya! And it was free! So nice! Thank you Maya!"   I felt so grateful for this…for the way he, Tasha and their sweet son Mike honored her spirit.  It felt so good to exercise mommy self control, not allowing the 'shut down' messages of my past, to get in the way of the real and magical moment for all.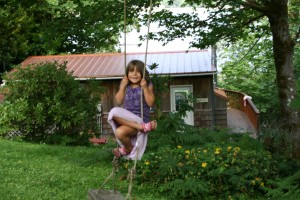 This and her Cirque du Soleil performances later, are a healing reminder that one can actually be all they desire to be, and it is not only acceptable, it is delightful.  Yes it is sweet Maya.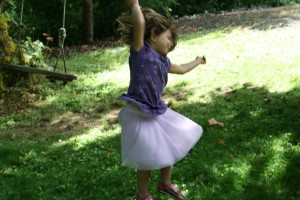 Conscious Family Reminder:  Be attuned to where the messages that drive you are coming from, and recenter in what values and experiences you want to support and create in your life now.
—-
Like when, as a mother, you sit with your fear, while dad takes the kids for a looong kayak ride….and consciously choose Faith and Surrender over fear and control, over and over and over (probably more prevalent for a city girl unaccustomed to water activities).
Then you go on your own kayak ride, despite your own insecurity and constant fear of tipping over, choosing faith, faith, faith, surrender, peace and trust…and find that even in your scariest moment, as your kayak is heading speedily into a craggle of branches…that your inner knowing (and Divine guidance) kicks in and suddenly, miraculously, you know what to do, reaching your paddle deep into the water to turn yourself away from danger……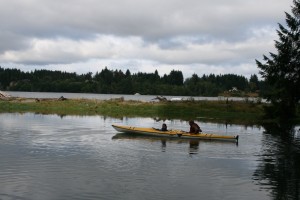 ———-
Every morning I wake up to a breathtaking view of green trees with moss covered branches, peaceful water and fog drenched pines in the distance…and rest in gratitude for the blessing of being here in beauty, peace, stillness, as a family… my heart is full.
And I am inspired at what these two have created in this sweet cottage, and how it can inform our own vision of what life can be.
"We must learn to reawaken and keep ourselves awake, not by mechanical aids, but by an infinite expectation of the dawn, which does not forsake us in our soundest sleep. I know of no more encouraging fact than the unquestionable ability of man to elevate his (or her) life by a conscious endeavor." -Thoreau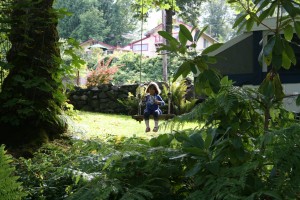 Maya wakes as I am writing and I give her the job of cutting cheese for our road snacks.  She quietly, contentedly cuts, then comes over.  "I need my morning hug" and we hold each other for a sweet, quiet moment of deep presence with each other.  Here, this moment, is one of the greatest gifts of parenting.  She's complete and walks away, on to puppet shows with the few stuffed animals here in the cottage, and I smile as I realize we had inadvertently skipped our morning snuggle time (our family ritual that grounds us as we travel)…. and she knew what she needed to do to about that.
Simple, essential, sweet…life in the woods.