Hana.. the tropical, untouched side of Maui
After our busy day packing and moving to our new condo for our unexpected bonus week here in Maui, it was no surprised that our drive to Hana began with whining children and grouchy parents.  As we began the winding road, stress began to melt off of my (and Sean's) shoulders as we took in the luscious green foliage.  Lucas and Maya however were not feeling better and instead were beginning to get car sick.  We were barely at mile marker 9 (out of 30) when Lucas said, "mom I think I need to throw up." As I was trying to pull a bag loose and empty it for him, he began to vomit in the back seat.  We pulled over as soon as we could, and then Maya began vomiting too.  It was almost too comical to get overwhelmed.  To the side of where we had pulled over there was a little stream that worked perfectly for us to wash the kids off, rinse out their shirts and offer a state change.  We joked that our guide book, Maui Revealed, which prides itself on revealing every hot spot on Maui, had neglected to discover "Barf Point" with its soothing stream and perfect antidote to car sickness.
In no time, Lucas and Maya were playing around with sticks and leaves. I used bubble juice to clean their car seats, then we got back on the road, taking it much more slowly.  We stopped at a couple of short hike spots and eventually found a sweet waterfall pond, where we played a while.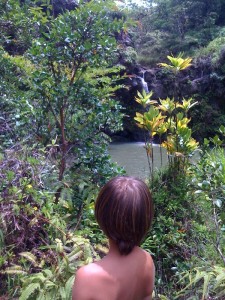 Conscious family reminder:  Let go of what ails you.  And step into the Joy of the next now Moment. Every moment a new beginning…
—
Favortite stop on the road:  Coconut Glen's, home of fresh coconut ice cream, and coconut candy, which is thinly sliced coconut, sprinkled with sugar and cooked slowly at a low temperature.  Deliciously toasted coconut goodness.  We tried the Coconut candy ice cream, which they served in a half coconut shell with a sliver of coconut husk as a spoon (I asked how they clean their coconut shells and he said they wash them and bake them at 200 degrees.  A great biodegradable, renewable source). It was soooooooooo delicious.  We of course, then had to try the Chili Chocolate Chunk ice cream;  Coconut milk spiced with Chipotle with dark chocolate chunks.  Yummm.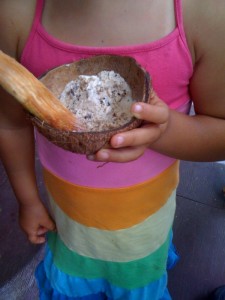 Conscious Family reminder: seize the moment! (and learn new ways to take care of the planet)
—-
We headed to Waianapapa State Park to the black sand beach, where I breathed deep to the tinkling of black rocks being pulled back and forth by crashing waves, while Sean and Lucas played in the water, and Maya gathered rocks 'for everyone on the beach' inviting me to go and tell them to come pick their rock.  When Sean and Lucas came out of the water, we gave them their very own hot stone massage. Then we took a new path through low hanging trees ("a jungle!") and discovered the freshwater cave and pool.  Sean and I compliment each other in the travel department.  I'm the one who rouses us out of the daily grind, and gets us out, out of town, out of state, out and about.  Then when we are on the adventure and I begin to feel uncomfortable or 'chicken' he pulls me out of my complacency to go a little further, explore  a little more,  jump in a little further…
So when we got to the pool, my first reaction was walk on by, but now Lucas' inner adventurer is coming out more and more and he was adamant about wanting to jump in.  So they did.  All three of them!  Mama hid behind the role of being photographer because it was too cold. (unfortunately with the camera that broke.  I hope to insert a pic later)
—-
Next morning, we listen to the call of our host's amazing, lush, tropical backyard, to run down the hills… the freedom in lucas and maya was breathtaking… what every mother wants for her child (and herself) to run freely like the wind, without a care, enjoying the thrill of each moment, each rise and fall.  I ran down too, loving the feel of letting the rise of the hill thrust me up in the air and fly.
Anya, our host,  came out and told me how they reminded her of her own children who became "jungle kids" without a need for a babysitter, when they moved here many years ago.  We talked about their land, mini farm and swapped chicken stories. Anya took us on a centipede "hunt" because we said we had never seen one. She was very determined and turned over one coconut husk after another and threshed into plants and weeds for a very long time, but alas we did not find one that stuck around long enough. Good news for her.
But we did find an amazing variety of slugs and worms, which we helped her feed to the chickens. She gave L and M a latex glove and a bucket each to collect more.  We loved watching them devour their slimy treats greedily just like our own lovelies back home.  A little home time helped the homesick feelings that were emerging just a day before, when Maya said "I'm bored of Maui!"  Lucky girl.
Conscious Family reminder: opening our hearts to each other, we find common ground and inspiration that heals in ways we never expected
—-
Off to the lava tube, a tunnel and cave with stalactites and stalagmites created by ancient lava flow… Maya led the way, telling us,  "there's a rock there, watch your step, now another one, and another one."  Fully confident.  People passing by, some chuckled, some got it.
Conscious Family reminder: Let the children lead, they will teach you by their example and you will be preserving this powerful leadership in them that is inherent, and which we must not crush, for their sake, ours and the planet's.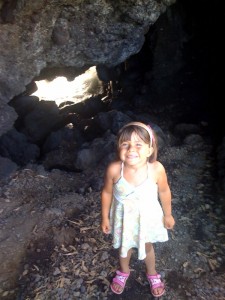 —
Then on to Venus pool, where again I was "chicken" (in our house we use this term with great tenderness), but after Lucas' urging we all went in the warm water and swam easily across. Lucas going higher and higher,, first the kiddie ledge, then the 10 ft ledge, then the  15ft ledge (which daddy waited till I was acroos the lagoon, to indulge).  Me biting my lip, breathing deeply, trusting his own inner knowing, and his dad's wisdom, balancing my mother's anxiety with a high value on his discovery and full engagement with life.  Maya and I on the shallow side, her stretching herself with her leaf game, throwing her leaf further and swimming out to retrieve it.  When it was time to swim back, not surprisingly, she swam on her own.
Conscious mama reminder: Trust, trust, trust their (and our) inner knowing