"Life is a dream, only in death are we awake." -Aztec wisdom
Every year, I look forward to Dia De Los Muertos (Day of the Dead), the Mexican version of All Saints Day.
Growing up, I was scared away from this holiday because of the skeletons and focus on death that I was told were evil (by well meaning foster families).  But as I became more familiar with my culture as an adult, I have grown to enjoy this holiday very much.   It originates from an ancient Aztec tradition that celebrated death as a natural part of life. For this reason, people don skeleton masks, dress skeletons up, and make skeleton candy, all in a playful jab at our own mortality.
I so appreciate this festive holiday that is not afraid of death… and reminds us to live life and embrace every moment with vigor, in true fiesta style!  Meaningful rituals, like this, are food to the soul…and there are so many ways to seize the call of reflection and rejoicing that this wise holiday holds together.
In the past, I have called together friends and we have set up altars to remember our loved ones (including their pics, their favorite things, flowers, etc.) and sat in a big circle sharing our memories.
More recently, we also celebrate intimately as a nuclear family, to give our children a chance to feel held  while we share memories of family members, and pets we have loved and lost.  We sit together and light a large center candle.  Then we light a tea light for each loved one, share memories of him/her and blow kisses to their spirits. We end with hugs and kisses to each other and gratitude that we get to share our life together.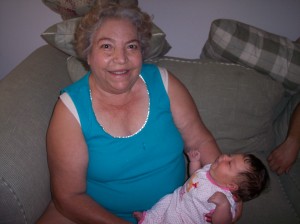 This year is particularly meaningful for us as it's our first Dia de Los Muertos after my mother passed on this year.  We have been feeling Abuela's presence with us as we remember her bright, shining, strong and feisty spirit.
Today, as we rested during our trail walk, I told a brief version of my mother's early life on the ranch in Mexico, which included the information that she gave birth to five babes at home.  Lucas and Maya were in awe…and I felt grateful (yet again) for this sacred day that reminds me to stop and share my mother's courageous journey…and remember the wisdom we can all find in staying connected to our loved one's legacies.
In the end, what I love most about this celebration is the renewed appreciation of life that I am always left with; a reminder of what a sweet gift it is to be here with each other, and how important it is to grab life by the 'bones' and shake it for all its worth with conscious, fearless and yes, playful courage!
Feliz Dia de Los Muertos everyone!