One of my passions is to recognize the soul's journey in this movement through life. In our materialistic and often disconnected culture, important life transitions are moved through superficially. Yet these are the moments where our hearts are most open and in need of expression so that we can continue to walk the path that is most authentic to our soul.

Generations ago, rites of passage were a natural and intrinsic part of growth in a tribe for this reason. My hope is to help you to take the time to truly honor yourself and your family. Each ceremony is simple and specifically tailored for you. It is a great gift to yourself or to a loved one to honor this sacred time with a blessing.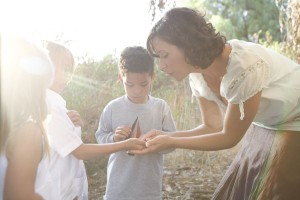 I offer these blessings as part of my spiritual ministry by donation only. Those who are able donate more, often do so, so that those who are not, can also be served. It is my privilege to facilitate these blessings for anyone who seeks them, as my schedule allows.
Blessingways- This is a time to honor the mother as she transitions (for the first or fifth time) into motherhood. Her sacred circle of women offers words of love and pampering as well as a safe space to shed anxieties and prepare to greet her new blessing with confidence and assurance that she is deeply supported.
Baby Blessings- A time for parents to share their heartfelt intentions for their blessed child, to reflect their child's beauty and for their community to share their wishes and commitment to being a part of the child's village.
Grandmother Blessing- Similar to a blessingway but for a grandmother to be.
Bridal Blessing- A time to honor the bride-to-be with words of love and pampering and offering her a safe space to shed anxieties and move into her new life with confidence
Girls' Blossoming Blessing-  A time to honor a young girl's rite of passage into menstruation and emerging womanhood.  A powerful blessing to celebrate this transition, the gift of life, of being a woman and knowing she is held and supported by those who love her.
Healing Blessing- A blessing designed to bring intimate family and friends together to provide support around a specific need (for adults or children or the whole family), i.e., preparing for a move/new school/new grade, preparing for a medical procedure, healing from the loss of loved one, supporting a sick/struggling family member and so on…