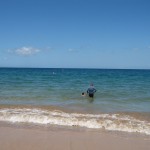 Our family is blessed to have vacationed in Maui many times over the years.  Every time we arrive and I feel the warm winds blow, I take a deep breath and feel my body melt with relief: here is a place that moves at my pace.  In Maui, my efforts to slow down are not counter cultural, they are the island way of life.
We come with no agenda except to reconnect as a family.  School and sports schedules aside, we are free to simply rest in each other's company most of the time (my husband and I still swap work time).
This year we had the express, almost desperate, intention to repair the distance and  rifts that had occurred in our relationships.  The  past two years with my husband earning his PhD (while also working full-time) and transitioning to three children, had taken a toll on all of us.
I live and breathe self care, am always holding myself accountable to seeking and maintaining balance and self-presence, as I support others to do the same.  Yet no matter how hard I tried, the unending exhaustion of navigating life with little ones, with limited support, left me treading water many times, with less attention, and less patience.
Over and over, I kept hitting the wall of collective exhaustion and discouragement from living a life that was simply too much in every direction, even as I continually sought to simplify and maintain balance.
Every time we step foot in Maui, I look back on our life and think, "How were we living like that?"  but the fact is, when everyone else is living this revved up, overscheduled life, we begin to think that we are living a slower, simple life comparatively.
Yet in Maui, one begins to see that life is not simple when one compares it to the truly slow life.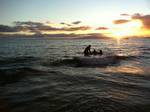 As always, every year, I write myself notes from Maui, as an effort to bring some of the peace I feel there, back home with me.  They are all a variation of:  SLOW DOWN, only do what really matters, SLOW DOWN, prioritize connection, SLOW DOWN, get out to nature often (which slows us down, and facilitates presence).
This time, I also had the wider perspective of seeing myself go to Maui over the years, reawaken to true simplicity, engage in conscious hopefulness and intention to bring this home…only to find myself running on the hamster wheel in one way or another within the year.
While this is discouraging, it is also illuminating.  Most of my friends would describe me as "very passionate" in my efforts to simplify and stay connected, and even I, cannot hold the overwhelm of modern life at bay very well.  This truly speaks volumes.
And this is why, I have found deep respite in nature 'getaways;'  a time where we unhook from peers, schedules, media, fast living in all its forms, and return to each other.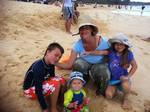 Getting out of the 'rat race' and into nature, helps us reconnect to what is natural for us as human beings. (When not in Maui, we commit to being unplugged, and go out on nature outings, to the park,trails, ocean, etc. for day trips.) It is invaluable to find some way to step out of daily life, into a natural space that allows us to experience the slower pace of nature where we have presence and attention…
To look our children in the eyes when they talk to us (instead of being distracted by the to do list,computer, phone, etc.).  To breathe. To help our children when needed.  To snuggle. To enjoy quiet presence together. To read, write or draw side by side. To dance and sing. To crack jokes. To play, play, play. To say "I love you" with our interactions.
Returning to a natural pace, I was reminded once again, how powerful simple presence and connection is.  The disconnects I wasn't sure we could heal, the mistrust, the teasing, all melted away.  My children's sweetness, curiosity, trust and purity shone through again (as did my own);  no longer obscured by an overscheduled, overstressed life and the behaviors and defenses we all employed to survive.
I was stunned that there were dramatic changes even after only a few days.  I was grateful that we had a foundation of love and trust to come back to.    I saw so much resilience in all of us, and felt hopeful that we can continue this at home.
Again.
Maui inspires me to dig my heels in (the sand) back here in 'normal' life as I relentlessly set loving boundaries on our time and preserve a natural, slow, rhythmic pace of life.   Because no matter how inconvenient, unpopular, and counter culture, living simply can be at times…the real connection within and with each other that results, is the only thing that truly matters.
Yesterday, as my son entered third grade, he held onto me for a long time, saying he would miss our time together (even though he loves school very much and was thrilled to be there).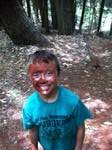 I'm so glad I got to look into those beautiful eyes all summer (his face is covered with red hawaiian dirt :)
p.s. My Conscious Mothering Mini-Retreats were inspired by this sweet slow pace and will allow for much of this natural reconnection. Click here for more info!