The Red Tent is inspired by stories of how women, in years past, would gather under a red tent during their cycles and share the sacred experience of birth, motherhood and life as a woman (well described in Anita Diamant's book, "The Red Tent"). This empowered mothers to be familiar with birth, know what to expect, how to support each other, and to rest in being supported. It offers a beautiful possibility of women being nurtured and celebrated for their sacred role in the miracle of life, in good times and especially, in challenge.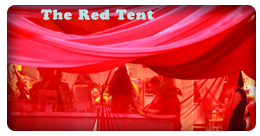 Our Red Tent gatherings aim to restore some of this sense of community, by offering a safe space where those who have given birth can share the details of their birth, good and bad, and find relief, exultation and comfort in sharing this with fellow women.
At birth, our body is flooded with hormones and strong emotions, making every experience a powerful moment that stays in our body, mind and soul. Yet, immediately we have to move on, as we tend to the constant needs of our babes, and we rarely have time to stop and reflect on the magnitude of our birth experience. The Red Tent creates a time and space that calls us to slow down and remember. We remember what went well and we remember and release what did not, opening ourselves to more fully embrace the many gifts of birth.
It is also a safe space for those who have not given birth, to come and become acquainted with birth in all its complexities and beauty (whether pregnant, planning to be, or simply curious).
Regardless of their birth circumstances, women come away feeling lighter and grateful, as they release the challenges and share the profoundly blessed moments of their pregnancy and birth. Something about sitting in a circle and talking about this moment in life is so powerful that it is simply hard to describe (even though I am trying!) What I know is that it is an experience that most women crave deeply, yet did not know was available or even had a name. It does, and it is here for you.
See the 'Events' tab for dates/times of upcoming Red Tents.