What is a Conscious Mothering Circle?
Throughout our parenting journey, we can find ourselves seeking parenting wisdom from others but feeling likesomething is missing. As women, we often need to process the tremendous unfolding that is being a mother through each changing stage. We need the time and space to expand into motherhood, to consciously reflect on what it brings up in us and heal any history that created patterns we do not wish to repeat. We need to breathe, surrender and move back into love, presence and connection.
Every mother seeks to be the best mother she can be for her children.  Yet, without prioritizing herself and taking time to be deeply nurtured, her days can feel less joyful than she hoped. Because our days as parents can pass too quickly, Conscious Mothering Circles help mothers make the most of every moment with their children by reconnecting to the self-love and connection that empowers and heals, and the support of mothering community that nurtures and inspires.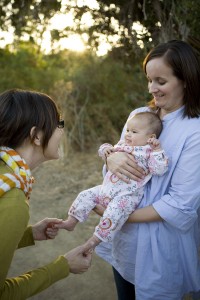 Conscious Mothering Circles are intimate groups of 6 mothers (of children of all ages) who come together monthly in person or by telegroup, to connect within and with each other.
Using the Inner Bonding process*, Sylvia actively helps mothers heal challenges that impede them from being the mothers they want to be. While every mother decides how "deep" she wants to go each time, there is always the safe and sacred space for exploration of any issue that a mother is facing. Mothers guide their process and are always supported in a way that honors and respects their innate wisdom and potential.
In the words of a beautiful mother…..
"When I describe the monthly Conscious Mothering Circle to other moms I know, some of the first words out of my mouth are always "it is just such a safe, loving, whole space for you to express and work on aspects of your life that are holding you back from being the mother you want to be."
Sylvia is a gifted mama whose compassion and straight talk allow a participant the opportunity to really look within and find answers to issues that may have been welling up for a long time or just initially surfacing. She has a unique way of guiding you but, really you are finding the answers. This empowers you to feel in control and more willing to dig and explore a little deeper those issues that influence how you handle the daily grind of your life in being, a mother, partner, co-worker, sister, friend, etc.
The group setting or circle is so powerful. Listening to other women discuss issues they are having and watching them work with Sylvia to resolve, or work through those issues, is such a learning opportunity. The circle experience is a very unique opportunity to get to know other mamas in a rare state of mind. You get to know your circle-mates intimately and are able to support them and feel their support through out the time spent together. Participating in the Conscious Mothering Circle each month is the best gift I know of to give myself mentally. I leave the meetings refreshed, grounded, centered, empowered, and loved.
As mothers we experience so much giving of ourselves on an hourly basis. Giving yourself the gift of this experience monthly will allow you the ability to give all you must give during the month and have a place to mentally fill-up. It is simply the most enlightening few hours a month I participate in. I love it and feel so fortunate to have found Sylvia and to have been open to including her in my life."  – Carrie, Fullerton CA
How will I benefit from participating in a Conscious Mothering Circle?
Fill the gaps that emerge when your childhood experience is different from what you are trying to create as a mother for your children
Strengthen and develop your own inner knowing (intuition, emotional guidance) and spiritual connection to guide you in mothering and self-mothering
Learn to mother from the heart to be fully present in the moment with your child (in pregnancy and beyond)
Honor the sacred role and passages of womanhood/motherhood including pregnancy and birth, to fully experience the healing and preparation that these transitions offer
Learn to compassionately mother yourself and heal the wounds of your past.
Learn to use this journey of sharing life with naturally innocent, pure and vibrant children to reconnect to your own wholeness and perfection
Sort through all the information available and simplify by coming back to your inner knowing and what is essential (presence in the moment, surrender, mindfulness, grace).
Parent from a deeply loving, confident and connected place of grace and personal power.
Experience the profound richness of sharing the journey with mothering "sisters" who offer wisdom, support, comraderie and inspiration.
Joyfully connect with your children as they grow and thrive in the light of their mother's love and authentic support!
The Circle is designed to adapt and flow with the needs of each particular group of women. However, it is also specifically designed to offer a comprehensive journey into
what it means to be a conscious woman and mother today.
The result is a powerful and safe space to find true, compassionate and clear support as you journey through motherhood.
What can I expect when I attend a Conscious Mothering Circle?
Conscious Mothering Circles integrate time for:

Centering:

we begin with a calming meditation and visualization, and a few moments to reconnect to your soul and tune into what would feel loving to explore. 
Sacred Listening and Exploration: 

Mothers who choose to, explore their challenges more deeply and receive empathic guidance from Sylvia while they are held in the safe and sacred listening space of the circle. All participants are invited to share any feedback or wisdom that feels helpful.
Topic Discussion:

 

As time allows, any topics that were identified by the group are discussed, such as: relationships, attachment, sleep, nutrition/health, gentle discipline, family rhythm, and so on. During this time, we also share stories of our rites of passage; our births, birthdays, coming of age, leaving home, marriage, pregnancy, and our children's births, all of which influence the way we mother.
Closing: 

We close each gathering with a simple gratitude prayer and visualization to empower us as we return to mothering life. 
In the words of two more beautiful mothers….
"Sylvia has taught me how to love and honor myself so that I can be more like the mom I know in my heart I can be. She has taught me to listen to my heart, follow my gut, and not be afraid to feel my feelings. She has taught the importance of self care and importance of being present for my family.  She has taught me that it is not selfish to take care of myself. In fact, with her help I was able to see that neglecting my needs was actually harmful to me and my family. I can't speak highly enough about her circle. Thank you Sylvia!"
-Danielle C, Claremont CA
My healing experiences facilitated by sharing circle are largely
contributed to Sylvia's ability to create the most welcoming sacred space
and her natural, neutral presence. Having a grounded, and awake circle
leader like Sylvia makes me feel comfortable, and trusted in my strength
and wisdom. I am so grateful to know and experience the shifts in awareness
from sharing circle, and recommend it for all women who want to connect
with their inner power.
-Maria, Garden Grove CA 
And it's also about conscious community….  
All women who are part of a Circle are included in Sylvia's Conscious Mothering forum and invited to seasonal Conscious family gatherings.
How do I participate?
All in person CM Circles require a FOUR month commitment by participants to ensure the safety and continuity of the group. This is a very intimate gathering and you must reserve your space to participate.
If participants need to miss a meeting during their 4 month series, they are offered ONE 30 minute phone session as a makeup. Once you have completed a 4 month series, you have the option to continue via autopay on a monthly basis.  Ongoing members are also offered ONE 30 minute phone makeup session per every four months. 
Conscious Mothering Circles are held in different locations and by telephone (telegroup).  Please see the Event Calendar for dates/times and contact Sylvia to reserve your space in the Circle that works best for you.
Cost: $200 per 4 month series ($50/session)
To register, email sylvia@connectingwithin.com.
Already a Circle member?
If you have already attended at least four months of Conscious Mothering Circle and would like to continue by signing up for Auto-Pay, please click here.
*For more information about the powerful self healing Inner Bonding process visit: www.innerbonding.com