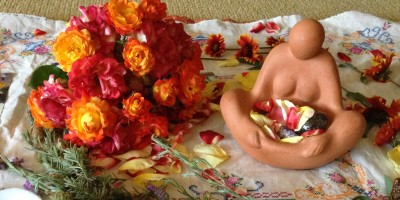 "I believe that the thought that women together can change the world is emerging into the minds and hearts of many of us, and that the vessel for personal and planetary evolution is the circle with a spiritual center" – Jean Shinoda Bolen
When women find their way to my Conscious Mothering circles,
a common phrase is, "Where has this been all along?"
Over the past seven years in these Circles, I have seen deep connections form between women, witnessed mothers returning to their intuition and remembering to listen to their soul. I have seen women courageously healing the abuse, abandonment, hurts of their past and learning to love themselves more deeply until this is what feels natural. Then, with hearts wide open, sharing this conscious love and connection with their children in a way they never thought possible.  It is time for mothers everywhere to experience this.
I have witnessed women laughing, crying, feeling frozen, anxious, confused and jubilant, as they navigate the constantly changing struggles in life and mothering, in safe space, inviting each other to be authentic, to let down walls and masks, and simply grow with one another.  And all the while a sense of rootedness and belonging in tribe, a sacred space for growing into mothering and ourselves, a HOME to return to over and over and over…is created and nurtured.  It is time for mothers everywhere to experience this.
I have seen the joyous eyes, the gratitude, the rediscovery of self love, the peace, the connection of being with each other freely and honestly as humans are meant to be. The strength and resilience that comes when supported to be our highest self, to embrace mothering and life as a spiritual practice, and be the mothers and women we are meant to be. It is time for mothers everywhere to experience this.
I have seen mothers who have diligently reviewed and attempted to put into practice all the conscious parenting wisdom, only to find themselves overwhelmed and confused, navigating the triggers of their past with their children's (and their) needs in the present. Then after being in Circle, breathe a huge sigh of relief to know they are not alone; resting in the comfort that there are others who share the same passion for parenting and commitment to the authenticity and self-presence needed to be a conscious mother. It is time for mothers everywhere to experience this.
Heartfelt comments like this are common from mothers who attend Circle...
"Every mother should have an opportunity to participate in the beautiful gift that is known as the Conscious Mothering Circle. Sylvia has brought together the unique process of mother to mother support, as well as her own rich experience and expertise in facilitating a type of circle that can only be described as nourishing to a mother's soul. Whatever we may struggle with as mothers, there is no safer place to be received and accepted without judgment than in the circle that unfolds around each of us each month during that special time known to those of us who have found this gem, as our sacred time together. It is truly a feeling of coming home to one's own heart. Thank you Sylvia, for all that you do to make a difference in the world, beginning with us moms who need you more than we know! " – Jane
Join us to ensure mothers everywhere have access to a safe haven for the powerful learning, growth, spiritual practice and awareness that we can connect to while mothering. 
How?
By training to become a Conscious Mothering Circle leader and bringing these Circles to your community!
Why train to lead a Conscious Mothering Circle?
While almost any circle of women is incredibly powerful, what is distinct about Conscious Mothering Circles as designed by Sylvia, is that they integrate powerful tools which specifically complement conscious parenting education to holistically support the mother.  These include the transformative self-healing InnerBonding process, energy medicine, mindfulness, nature awareness, and more, that create a safe and sacred space for lasting healing and growth.
So much of what we are asking conscious parents to do requires peeling back layers of how they were treated, what feels normal, what society expects, how our children trigger us, what children really need, areas parents need support, how media distorts views of real family life, and so on. It is a tremendous effort to parent lovingly and consciously in a world that is becoming increasingly disconnected from nourishing family life and self presence.
Conscious Mothering Circles provide the essential complement and missing piece to innovative, leading edge parenting literature by actively supporting mothers exactly where they need it in each moment; making this parenting wisdom more accessible to their hearts and minds.  For more on Conscious Mothering Circles, click here:  http://www.connectingwithin.com/conscious-mothering/conscious-mothering-circles/
Another beautiful mama shares about Circle…
"I cannot say enough good things about Sylvia and the work that she does for women and indirectly for their families and even more exponentially, for the world. The environment she offers through retreats and Conscious Mothering Circles is such a safe, healing space for us mothers to be able to reflect and restore ourselves in an authentically self-loving, self-affirming way. She approaches her work with warmth and grace and makes it possible for women like myself to experience beautiful moments of enlightenment, self-awareness, and catharsis. My spirituality and emotional intelligence is nourished and my soul is perpetually fed by my experiences with Sylvia and the support I receive from her and the mothers who attend these events. It is a Powerful and Invaluable service that she provides."   -Leslie 
What is involved in the training?
This Conscious Mothering Leaders Training is a deep healing immersion training.  In order to support mothers at a deeper level, we must do our own inner work. Within a safe and intimate group of fellow wise women, you will learn to heal the false beliefs, trauma and old patterns that limit you in your own mothering and life journey. With compassion and gentle guidance, Sylvia will teach you how to use the Inner Bonding process, energy medicine, mindfulness, and nature awareness to support yourself and the mothers you work with.
Each weekend or week long training will include:
Nature awareness- We will begin our mornings with peaceful, contemplative walks in natural spaces. Integrating nature awareness and mindfulness practices to embrace the healing found in nature.
Centering meditation – You will be guided through various meditation and energy clearings to help you re-connect to your essence/core self and spiritual guidance, as well as help you know how to support mothers to manage their own energy.
Inner Bonding Process– While held in the safety of the intimate healing circle, you will have the opportunity to explore what challenges you as mother, wife, daughter, human, soul. Through Sylvia's gentle facilitation, you will be able to practice moving through the Inner Bonding process and learning how this process of reconnecting to our wise mother self and spiritual guidance is particularly helpful in the circular journey of life.  With clarity and compassion, Sylvia will help you to recognize and move away from fear, shame and self-protections that inhibit our ability to integrate the conscious parenting wisdom we know.
By moving through the process, you will learn how powerfully it can bring you and the mothers you serve, back to embracing and cherishing yourself, trusting your intuition and living in connection with your spiritual guidance. As you use the Inner Bonding process to heal and witness others doing the same, you will naturally develop greater ease in applying it to your daily life and to support the women in your Circles.
Spiritual Reconnection: Through indigenous opening practices, you will enter the quiet space of your heart and connect deeply to your higher self/spiritual guidance. You will learn to feel the depth and peacefulness of your spiritual guidance and distinguish it from the voice of your wounded self. You will learn how to clear out the clutter of your mind and body to allow your guidance in. And you will develop awareness of this spiritual connection in every cell of your being.
Embodiment and Integration: Informed by leading edge, brain based research on healing trauma and establishing healthy patterns, we will practice "living into" or embodying what we are learning. Through simple physical movement, sensory awareness practices and playful activities, you will practice taking loving action for yourself, speaking up, letting go of fear, setting clear and loving boundaries,  living free and fully expressed, and stepping forward as a leader in your mothering community.
Unconditional Love and Safety– A crucial piece of our healing and ability to love ourselves, is having real life experiences of unconditional love and true safety. As we return to the truth of the beauty and innocence of our souls, we are able to shine and celebrate each other's essence in a safe and sacred space that is uncommon in every day life. Having experienced the bliss of open-hearted and unconditionally loving acceptance will offer you a higher vision to hold for the Circles that you offer.
Healing rituals, rhythms and ceremonies– In the tradition of our ancestors and wise women, Sylvia will share simple ways to clear away the residual energies of old trauma and limiting beliefs. She will also integrate healing ceremonies that you can use to help mothers step into life with joy, freedom and new possibilities. Nurturing families through rituals and rhythms will also be discussed.
Conscious Mothering Wisdom and Community- Trainings will be designed to welcome and incorporate the wisdom of each leader-in-training, recognizing that we each come with skills, awareness and wisdom to share, that when embraced, make the whole stronger.  You will develop deep connections with other like minded, caring and compassionate wise women that are ready to help change the face of parenting, one conscious mother (or circle) at a time.
Practical Resources for Creating Circles- Upon completion of the training, you will be provided with tips, forms and flyers that will help you to start your own Conscious Mothering Circle.
3 months of Ongoing Mentoring to support you as you step into your Leadership role-You will be stepping into an authentic community of leaders that have practiced leading from the heart and letting go of the ego. This tribe of sisters with shared intentions and experience will be the Circle that sustains you as you move forward to lead your own Circles.
Your mentoring will include a monthly coaching call, email support, one 30 min phone call/month and an online community forum. You may also have an apprenticeship in a Circle led by Sylvia, if desired. All participants will be able to join an ongoing mentoring support program for leaders, thereafter.
Come with an open heart, ready to learn and be inspired, so you can then extend this deep support to mothers everywhere  (even more than you already do!)
When and where?
Anaheim Hills, CA
5 weekend sessions held in Anaheim Hills, CA; Saturday and Sunday from 9am-6pm
Sept 12/13, Oct 10/11, Nov 14/15, Jan 9/10, Feb 13/14
Registration: 
Special Introductory Rate: $1,495*  (a $2,500 value)
Payment plans available with a $300 deposit (non-refundable)
*This reflects significant savings compared to Sylvia's Inner Bonding weekend Intensives, to honor and support your commitment to leadership and growth.
Training groups will be intimate and limited to 8-10 participants.  To be a part of this unique and transformational experience, complete an application to attend the Conscious Mothering Leaders Training.  
To express your interest and receive an application, please complete the form below. Note: You will also be added to Sylvia's Conscious Mothering Circle mailing list. Please look for a confirmation email and click the link to confirm your email address.

REGISTRATION DEADLINE:  May 27, 2015