We made it all the way north and were about to enter our final northern destination: Victoria, British Columbia, Canada!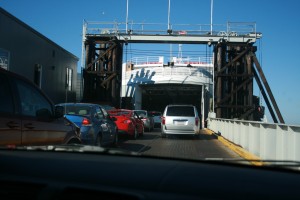 We drive up to the ferry dock and I am stunned.  In my mind, 'ferry' means smallish ferry taking one over a few miles to land in the near distance.   But no, this is a huge ship, loading miles of cars on, for the hour and half ride over the open sea.  And it is so foggy, cold and dreary that we cannot see the island on the other side.  It looks literally like we will be sailing into nothing.
Yikes.  My mama worry kicks in and I have visions of sinking into freezing water with orcas swirling around us….yes my fearful mind can go many places and convert sightseeing brochures about orcas into scary scenarios…but I consciously stop it, knowing worry serves nothing…and commit to turning this into an adventure.  A great desire I have is to support our family to  embrace new situations with the delight of adventure, rather than the fear of the unknown.  And in this moment I am reminded it is a choice and simply a decison to "change my mind."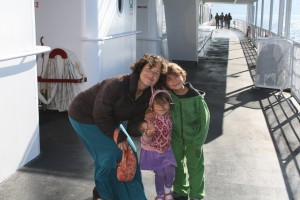 Shifting into adventure mindset, I focused on "Wow we have never been on such a big ship! Wow, look at all the cars that are coming too" …consciously shifting my thoughts back to faith and trust.   The ride itself is rocky and I get a little seasick, but Lucas and Maya enjoy themselves;  making friends, touring the boat,  making everyone laugh as they sway dramatically side to side with the rocking of the boat.  Everywhere we go…faces smiling at this dear moment of children joyfully playing with life… reminding me of the exquisitness of the moment.  All in all it was a truly fun adventure…and once I was safely on land, I appreciated it even more :)
Conscious Family Reminder:  Choose faith over fear.  With this simple choice, your 'reality' always changes for the better.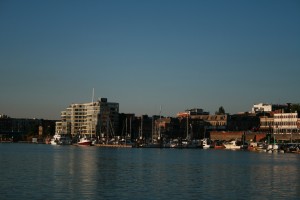 Victoria, we realized, although quaint, felt  "too city" for us, particularly after our 'life in the woods.'  So we headed out to explore Vancouver island.
We drove out to Cowichan bay, a quaint and peaceful marina with breathtaking views…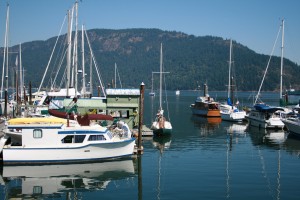 enjoyed some homemade ice cream and picked up some amazing fresh baked kamut bread from this lovely bakery…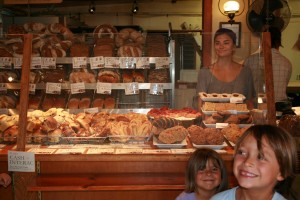 We only had one day, so when God nudged me to take us to the Butterfly garden, off we went.  Ever since I was a child, I have loved butterflies, so much so that it feels silly to say because, "Doesn't everyone love butterflies??" In my spiritual life I have also been guided  to see the butterfly as a source of inspiration…..learning from their ability to rise above every situation, showering the scene with beauty as they fly with delicate grace, yet persistent and focused determination, moving through the stages of life with trust in the value of metamorphosis….I could go on and on…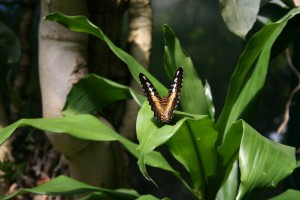 We walked into a simply dreamy scene with butterlies of all kinds, flittering and floating about…orange with black trim, delicate laced white wings, black with fiery pink spots…and then there was the opalescent Blue Morpho, with much larger wings allowing them to peacefully glide over and through the rest…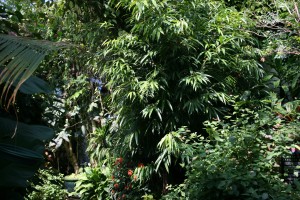 We walked around with our hearts full and our jaws dropped for awhile then sat to rest on a bench.  When you are still, the butterflies come nearer, almost curious about you….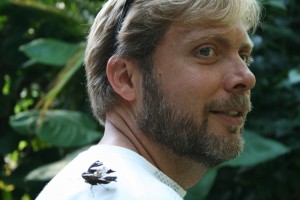 Lucas and Maya were 'bored' after a while and wanted to go, but I was not and encouraged them to find something to do for a while longer…they moaned, complained, and ultimately stretched out to rest on a bench.  I breathed in…allowing them space to have their feelings, while still holding true to my soul's desire.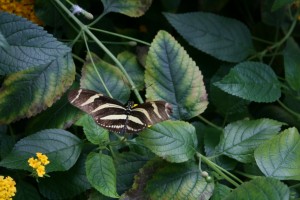 Feeling like a little girl in her own dreamy version of heaven, I sat joyfully, peacefully, expectantly…consciously connecting with and expressing appreciation to these beauties….when suddenly a Blue Morpho came and fluttered around my head and in front of my face!  My heart swelled with delight and I said to L,M and Sean, "Ohhh, it felt like it was giving me a butterfly kiss!!!" Then a second later a Blue Morpho who had been sitting on a leaf a few feet away, made a direct bee (or butterfly) line, and literally kissed me on my cheek then flew right back to its leaf!!  Tingles up and down my spine, and through my soul…a magical moment of connection….amazing….to feel such communion and so blessed by love…expressed through yet another awe inspiring Divine creation.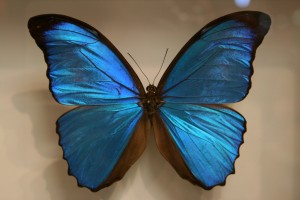 After this, Lucas and Maya took turns being still for their own butterfly connections.
Conscious Family Reminder:   Be still, be present, move past distractions, to the joy and bliss of your soul…where you'll likely be kissed by God and delight.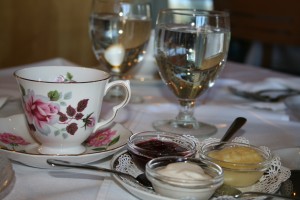 One cannot visit Victoria and not go to tea!  Especially not me, who once thought I wanted to own a tea house, so much do I love the ritual of tea parties.  We discovered a Scottish influenced tea house, The White Heather, where we all had fun sampling each little teach sandwich, savory treat, scones and sweets….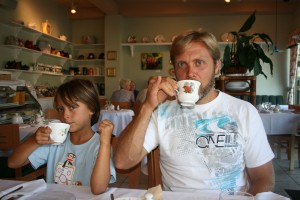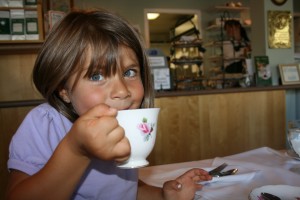 Then on to Beacon Hill Park with an unexpected discovery: the worlds' largest totem pole!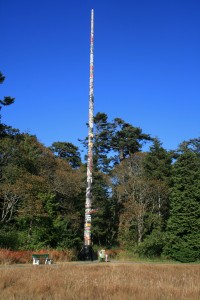 There are many totem poles here in Victoria and the Pacific Northwest, honoring the native tribes creation stories.  I am always moved by the ways people all over the world have sought to define and understand God/Creator and answer life's existential questions.  Here, we gazed at this enormous representation of one culture's creation story and for a moment felt the same mystery and awe they must have felt when discovering the wonders of their world…great oceans, forests, animals…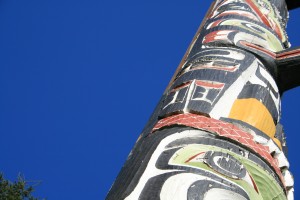 This is one of the greatest gifts of traveling and discovering new peoples, cultures, lands…it broadens ones awareness of the incredible diversity, beauty and wonder of the world…which broadens our concept of  the Divine in all its complexity and enormity…giving us a small glimpse of the grandness of God, that we can scarcely imagine or define.  The  beauty in the world is overwhelming; every person, creature, plant, flower, cloud, mountain…and we can be sure that the Love that created this, created us and we are held and supported in the same way as all of Life.
Conscious Family Reminder:  We all share the same yearning to reconnect to the Divine and find purpose and meaning in our lives.  Remember this longing is timeless and intuitive and follow it.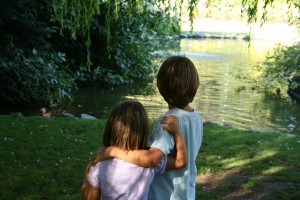 A short play stop and sweet brother/sister moment watching a momma duck with her ducklings,  then we are off to return our car to the ferry.
I take Lucas and Maya on one last walk in Victoria, past the Parliament building to the Fairmount Empress to see their fancy tea room.  On our way back we  discover another unexpected delight:  Rob and Adin Paul Paterson.  Rob playing the bagpipe and his son, Adin dancing traditional Scottish dances.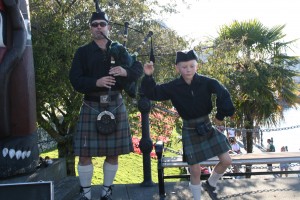 Adin who has only been practicing six months, dances his steps with focus and sweet joy…it is inspiring to see this father and son sharing their passions and journey together…. L and M talk about what dances they want to learn when we return home.  We get on the ferry to leave Victoria with gratitude for a very full day!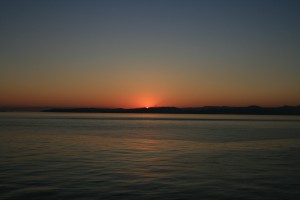 Having overcome my fear and being in a much more open, peaceful state, it is no wonder that the ferry ride home is simply beautiful..  We call it our sunset cruise.  Lucas says, "Mom, do you see that peach, lavender, pink and blue? Isn't that gorgeous?!" I say, "Yes, it's like a watercolor" he replies, "Yeah, it's like someone painted a picture with a boat in it, and we're on it!"