*I wrote this a couple years ago before our chickens and ducks brought nature home even more.  These reflections helped me to actively experience the blessing of nature everywhere which is a foundation of connecting within.  I would love to hear ways you have noticed and celebrated nature in your community as well!
For a long time, I have wanted to live somewhere else to be closer to nature. While this is still my long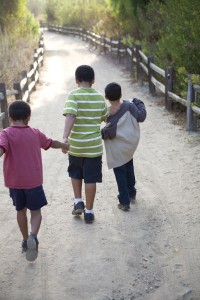 -term plan, I have come to accept where I am now.  Once I settled into acceptance that we will be here at least for a few years, my eyes have opened to the nature that is all around us.
As a family we have more intently turned our attention to the natural world in our backyard.  We tend to our garden, feed the birds, watch them eat and frolic, tend to the fruit trees, plant seeds, and again watch the birds. It is amazing how loud their song is and I am in awe at their tenacity;  the way they joyfully sing and go about their business regardless of how the landscape has changed.  In the same way, I am inspired to come back home to what I know is right and true for us, regardless of the suburban landscape;  to be connecting with nature at every opportunity, to see the beauty of each flower, the changing of the seasons, to stay connected to the rhythms of life.
We may need to seek it out more here, but we also don't take it for granted and it is more abundant than we think. Even in very urban settings, there are still trees, flowers, bushes, wildlife. We simply need to consciously take them in; noticing them and as much as possible and spending some time with them; stopping to smell the roses, notice the leaf pattern, admire the way the color of a tree reflects against the clouds in the sky. To hug a tree (I'm serious) or at least rest in its shade and feel its steadfast presence.
We can even create backyard habitats so that our families have a chance to experience all the Divine life around us, and so that we can be an active part of restoring our earth and its species.  If we don't have a yard, we can get out to parks, arboretums, local trails and settle into some real "Animal Planet" local style.
Today, we started our morning in our backyard with a chorus of birdies singing, we threw down birdseed and the birds watched curiously waiting for our exit.  Then we brought lettuce out to the bunnies, which Lucas proclaimed is his work:  " I will be the one who takes care of the plants and animals!" Usually we walk around our garden and say good morning to the plants, trees and fairies.  We dig or play in the garden to ground us.
Later, we went for a bike ride to the local church parking lot, which though it has a lot of asphalt, also has a long stretch of very tall grass, right next to enormous maple giants.  We tramped through it, Lucas making big zigzagging trails, Maya eagerly following and I tagging along picking "wheat." It is about where you put your attention.
When I put my attention on celebrating nature everywhere, I am ceaselessly amazed at the enduring qualities of all the species that live all around us, their power and presence.  No striving, no trying to be anything else, simply singing their loud, joyful song, just like our children, and hopefully like us.
What I have been reminded is that it is not necessarily about where I live or how big my yard is,  but rather that we take time every day to intentionally put our hands into the earth, to notice the changing season, to listen to the sounds of nature all around us, and slow down enough to take it all in, not only visually but energetically.  To consciously drink in the gift of nature's peaceful energy and abundant wisdom.
I know many people who do live in my "ideal" places and don't actually spend very much time in the natural world that surrounds them because of weather, commitments, and just going through life too fast too notice.  Don't let the beauty of the Divine all around you, pass you by. It's there. Wherever you are .