When people raise their voices at children, if the child has not already been "hardened," the child feels sad, scared, alone.  It is how children naturally  respond to harsh energy.  And unless they've been shamed out of this, they express it with tears, tremors, nervous laughter, to name a few of the various reactions a human might have.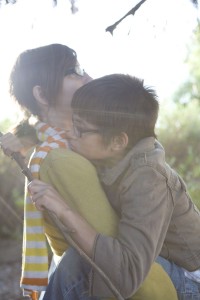 Many of the adults that I work with were shamed as children when they had these natural reactions.  So they quickly learned to shut down their authentic feelings, and they became 'hardened' to survive.  After a while, not only is criticism and harshness tolerated because their authentic response is shut down, but they even begin to become their own worst critic.
People say jokingly, "I am my own worst enemy!"  As though this were a natural state.  Or they feel bad because they were affected by someone else's criticism, their inner critic saying, "You're so weak, you can't take a little criticism."
But what if we remembered, how much that harshness hurts?  What if when someone spoke to us negatively or we spoke to ourselves this way, we really felt the grief and fear there? What if we let ourselves cry/shake/scream (whatever), and instead of shaming ourselves, opened our hearts with compassion for this very natural human reaction to negativity.
Some people say, "This world is a harsh place to be, you've got to learn to take it!" And while I understand what they are saying, instead of the old model of 'take it' meaning, "stuff it down," we can learn to 'take it' like a child, the model of what an authentic human looks like.
A child has a natural feeling reaction that tells them, "this feels awful" "oh this is really awful." This is often expressed through crying, anger, a "tantrum."  That feeling is there to guide us to take action to fix or get out of the situation. Usually a child intuitively seeks out the support of  a loving caregiver. While a child facing this, is limited in their power over the situation, most of the times, we adults are not.  We can usually get ourselves out of the situation and connect within.
When we attend to our feelings with love and compassion by allowing them to be there, they can guide us to loving behavior.  "Oh this feels really awful!" can guide you to find another way, opening to the possibilities and knowing that you do not have to be miserable.  In the same way that if you saw a child crying, or trembling you would stop, attend to him/her and help them find a better way.   You would celebrate the beauty of their innocent and natural reaction and even feel grateful for the gift of knowing there was a need and being able to help.
Our feelings are still that gift.  If they have been shut down in you, dig, dig, until you find them, and allow time and space to feel them, treasure them and allow them to soften and guide you.