Here is a story about how children (and we) can use water to intuitively heal or destress, that I wrote after watching one of my favorite muses….
"Healing healing water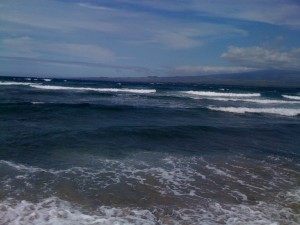 For my little daughter
Healing Healing has begun
Now the pain be gone be gone"  – Shea Darian, Seven Times the Sun
Tonight I was reminded of the powerful healing quality of water. Maya was having a rough day today… lots of crying, clinging, whining, anger.  I couldn't figure it out and though, I tried to ask her, she also wasn't able to express it with words.  Finally, at the end of the day my husband took Lucas to his swim lesson, which gave Maya and I time with each other.  I sat with her as she cried, giving her time and space to release her stressful feelings as she came down from yet another overwhelming disappointment;  she wanted her clunky pink shoes not her crocs.  Clearly this was not the real issue. I wondered if she was just picking up my vibes because just the day before I was feeling everything intensely.
Then she reminded me that she wanted to go into the kiddie pool that we had filled up earlier for which she had kept her swimsuit on all day.  So strong was her commitment to this, that I had to take her to Dr. Carri, our chiropractor, wearing only her pineapple swimsuit with a ruffle on the waist and giant pink clunky shoes.  Here we were past dinner and I had forgotten!  But she knew what she needed.  So we went outside.  I brought along my favorite parenting book because I was thinking, "Okay I really need some help here!"
Literally, a minute after gleefully jumping in, Maya was transformed.  Her little impish grin and gleaming eyes were back shining through her being.  She floated, twirled, talked playfully to herself.  I always say she is her own best little therapist.  I watched her as she healed herself, rinsing herself clean of her troubles.
A bath is one of my favorite calming tools for children.  As a mama, I have witnessed over and over how children enter a dream like world and become more subdued when they are allowed time to linger in the bath. Before motherhood, I also witnessed this as a counselor whenever I used any water elements with young people.  Over and over again the ethereal and flowing nature of water allows children to process and resolve issues even without speaking a word.
No wonder people have historically used water for baptisms and other cleansing ceremonies to invite us to let any pain, suffering, stress, grief, wash away and clear the way for a new beginning.  Like a soothing bath, water offers a sensual experience that brings us back home to ourselves but also shows us that we are held by something greater, just as we were held by our mothers in their wombs.
Maya smiles broadly at me as she proudly tells me, " I have babies in here and I'm their teachah!  I'm teachin them how to swim!"  She then floats on her back saying "See babies this is how you do it!"  I am grateful that Maya has been reborn in this backyard "womb";  reconnecting with her bright and joyful spirit.  And I am (again) in awe that this little soul knew exactly what she needed and was strong enough to hold onto her vision throughout the busyness of the day.
(Note: A week after this, she also fearlessly rejoined her swim lessons that she had refused to continue.  We did not force her and simply waited until she was ready.)